Scott Beasley Quietly Gives Back To The Community Helping
 Nazareth Child & Family Connection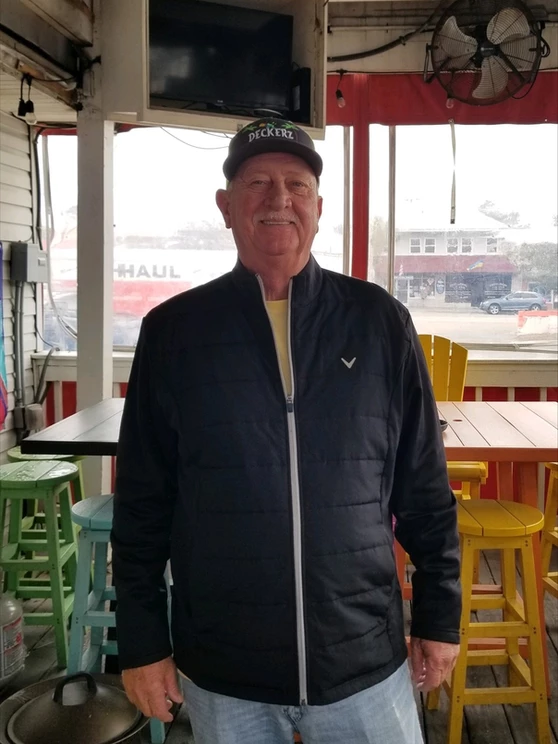 ROCKWELL, N.C. — Scott Beasley is a behind-the-scenes kind of guy. He loves to help; he just doesn't brag about it.
For more than three decades, the Lexington native has quietly given his time … and money … to Nazareth Child & Family Connection and other area nonprofits. It's his way of giving back to the community he loves.
"Scott is one of those people who likes to keep his head down and help others. He doesn't want recognition. He wants to help people in our community who need help," said Vernon Walters Jr., president and CEO of Nazareth Child & Family Connection. "I don't think people have any idea all the things he has done over the years for our community."
Beasley just wrapped up his most enterprising fundraiser of the year for Nazareth, the Eighth Annual Deckerz Charitable Golf Tournament. It is sort of an odd pairing. Deckerz is a bar and grill in North Myrtle Beach, South Carolina, some 220 miles from Nazareth's base in Rockwell. But Beasley and his wife Amy own Deckerz, and since it sits in one of the country's largest golf hotspots, he figured it would be the perfect place for a late winter, early spring charitable golf tournament.
"We bought Deckerz about 10 years ago. My wife has been in the hospitality business for years and years and she was ecstatic when we found it was for sale and bought it," said Beasley. "Eight years ago, I called Vernon and just asked him, 'why don't we have a golf tournament down here to raise money for Nazareth.' He said, 'I'm in'."
Despite its distance from Nazareth, the tournament, held annually at The Valley at Eastport in Little River, South Carolina, typically sells out of team slots and has great sponsor backing. This year's event netted $8590.00 for Nazareth.
"We always have a lot of golfers. Probably 65 percent of the golfers come from the Lexington and Salisbury area," said Beasley, who turns Deckerz into tournament central for the event. "They are ready to get out of town that time of the year. They roll in on Thursday and Friday, get to play golf and have a great time for a good cause."
Beasley, who with his wife Amy maintain homes in Myrtle Beach and the Lexington area, says many of his regular customers at Deckerz have gotten behind the cause of Nazareth over the years and help fill out the field and the sponsor slots.
"Scott and Amy do everything for the tournament. They get the golf course; they take care of all the plans. They have a band playing at their restaurant after the tournament for the awards ceremony," said Walters.
Beasley's charitable efforts aren't limited to Nazareth. As a licensed auctioneer, he has held many auction events for charities in the Lexington and Salisbury areas. His company, Bob Scott Amusement and Vending, is also active in helping local charitable causes.
For almost 30 years he has headed up the annual Fourth of July fireworks display on High Rock Lake and the fundraising efforts to pay for the fireworks and the celebration that goes with it. Any funds remaining after expenses are donated to Nazareth.
"Í've done little things for them over the years, me and my wife both are concerned about these kids," said Beasley. "People just don't know what these kids go through before they get there."
He also said, few people understand what Nazareth and its staff do for their residents once they arrive.
"People don't realize the things these homes do for children. They get them doctor care, they get them mental health care if they needed it," said Beasley. "They become family."
About Nazareth Child & Family Connection: Founded in 1906, Nazareth Child & Family Connection is committed to providing a safe and nurturing environment for every child, individual and families. In addition to the residential services for children and foster care program, Nazareth Child & Family Connection has outpatient facilities in Salisbury and Lexington serving individuals with mental health, substance abuse, developmental disabilities, as well as behavioral health needs.
Nazareth offers an array of services, including family foster care, adoptions, transitional living services for young adults, day treatment for elementary and middle school children, teen mother residential services, level two therapeutic residential, individual and group outpatient therapy, psychiatric services and outpatient substance abuse therapy in Rowan, Davidson, and Stanly counties. If you would like more information about giving or volunteering at Nazareth, please contact Jennifer Ethridge, director of human resources, at 704.279.5556 Ext. 1112 or by emailing jethridge@nazcfc.org.